The Rebirth of the French Leather Trunk
We have collated three fantastic blogs for your perusal of the highly collectable leather trunk. Currently being sought after as a decor statement, the demand in the market is breathing fresh air into two almost long gone French fashion houses. With Louis Vuitton & Goyard being so hugely sought after right now, there are several showcases and exhibits showing off some incredibly historic pieces.
We'll start off with a blog from a fantastic lifestyle website touching on all things french, 2 French Cultural Magazine. The blog is entitled "Moynat, Louis Vuitton, Goyard & Moreau: Heritage French Luxury Brands Reborn", and speaks in depth about how marketing is reviving two (also once iconic) French design houses.
"Louis Vuitton, Goyard, Moynat and Moreau. Four names which evoke an elegant, glorious, innovative and luxurious past. The first one, Louis Vuitton, is one of the most famous and successful luxury brands in the world. The second, Goyard, can often be found at the arm of new hype bourgeoisie. The third, Moynat, is beyond exceptional and is the delicate cherry on the cake of luxury for the happy few (Karl Lagerfeld, Nathalia Vodianova, Keith Richards…) consumers. The fourth, Moreau, is a phoenix slowly getting reborn from its ashes.
Already at the end of the 19th century, the high quality and the extreme attention to detail of these brands was appraised. Here is a brief attempt at explaining how the Parisian trunk-makers became and remain a symbol of excellence, luxury and elegance à la Française.
Experts of the luxury sector have witnessed the fast growth of Asian demand for luxury goods, and consequently the eastern-orientation of the largest luxury brands. The most representative company of French luxury group LVMH, Louis Vuitton, has been involved in a conquest for Orient for the past years and is already earning a large share of its profits from Asian markets, in particular China.
In the meantime, experts have also witnessed another interesting trend : the rebirth of French heritage brands, among which one finds Goyard, Moreau and Moynat.
Goyard is historically the eldest French trunk-maker, with an origin claimed to date back to 1792, and Goyard's strategy is mainly based on the brand's history, as shown for instance on the short movie on the home page of the website. The young Parisian woman evolves in an imaginary, timeless Paris, until entering the Goyard boutique located on the prestigious Rue Saint Honoré, which atmosphere and colors evokes nearly an antique luxury shop, with a doorman wearing white gloves.
Moynat was one of the leading brands in trunks and leather goods at the turn of the century, and was particularly appraised for its innovations. But Moynat slowly disappeared, and had been absent for the past 30 years until the brand was bought in 2010 by the Arnault Group, personal holding of French billionaire Bernard Arnault who also owns LVMH. Notice that the acquisition of Moynat was not made by LVMH, as a sign of a personal crush for the brand.
Moreau was also created in the 1880's and was very successful, until the economic disaster of WWI. In 2011, Maison Rovnoff, a French leather good company, acquired Moreau and in collaboration with Fedor Georges Savchenko, former designer of Goyard, worked on the heritage of Moreau to launch a new line of luxury travel goods.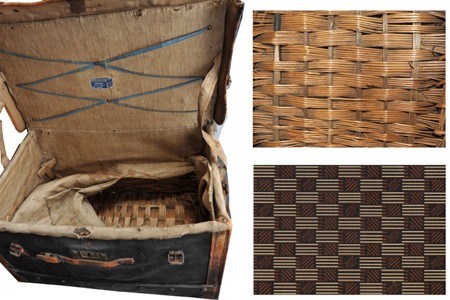 Moreau Trunk

Analyzing the emergence of these brands and their success at their time is not easy. Understanding the rebirth of heritage French luxury brands and their specific strategy isn't either.
Louis Vuitton, Moynat and Moreau were founded in times of industrial revolution in France, and to some extent, Goyard mainly developed during the same period. The industrial revolution in France took place in a very special social context, that in to say just enough time after the Revolution for a new wealthy social class to emerge. In fact, the mid-to-late 19th gave rise to a new type of hobby : leisure traveling.
Louis Vuitton, Moynat, Moreau and Goyard were all famous for their trunks, and where mainly used by travelers who from very early on, wanted to engrave or write their initials or their own distinctive sign on their luggage, as a way of recognizing them. Louis Vuitton and Goyard would offer their clients the possibility to engrave their initials, while Pauline Moynat, owner of the eponymous brand, offered to reproduce any desired color on demand of a customer, a know-how nowadays regained by the new team in charge of Moynat since 2010.
Because of the prestige of their customers, these brands became themselves extremely prestigious, and specialized in producing exceptional goods. Typically, Moynat created a Limousine trunk, which would stand on the top of limousine automobiles without risking to fall while traveling. Most products were tailored to customers' needs. For instance, Louis Vuitton designed hat trunks, tailor-made for each women customers'.
Prestigious, these brands were also known for their innovative power, as shown by the impressive number of innovation prizes, patents and participation in World Exhibition of Moynat, Goyard and Louis Vuitton. I couldn't find the information concerning Moreau but I do not doubt that it exists somewhere. A particularly striking example of innovation is the invention by Moynat of the 'gutta-percha', a special technique consisting of leather waterproofing, an innovation of obvious need when it comes to traveling and packaging materials. Other patents related to the creation of light structure for the trunks, secure systems and other mechanisms, as well as complete luggage systems.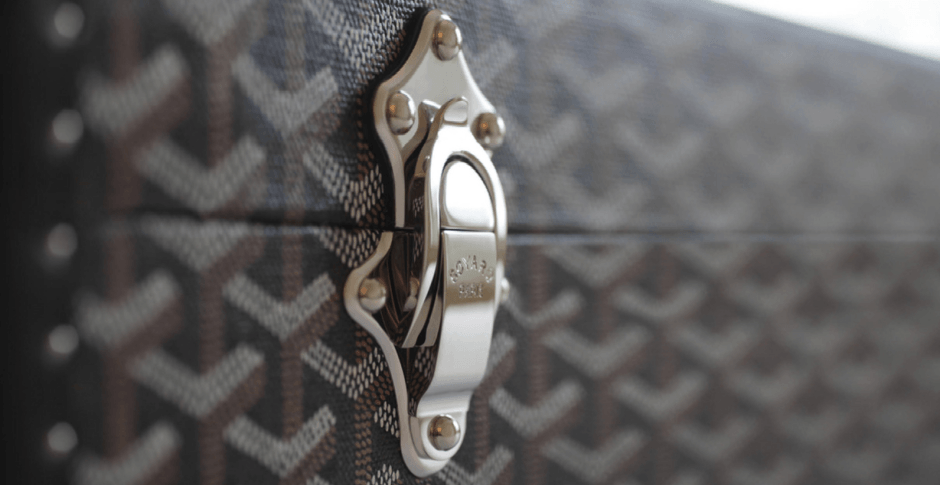 Goyard Trunk
But in 2015, why do these brands seem to experience a renewed success ?
Compared to the society of the 19th and early-20th century, our times are very different. Traveling has become a reality for most people, and actually a Rowena case is probably much easier than a Goyard trunk. Moreover, who identifies to the beautiful young woman in the Goyard video, who is served by the man in white gloves ? Nobody.
But what is brilliant about the strategy of these brands is that they capitalize on their past success to cleverly built a glorious present. In an interview we had the chance to have with Guillaume Davin, CEO of Moynat, in summer 2013, Mr. Davin explained to us the core values of Moynat, the DNA of the brands which made sense over a hundred years ago and still makes sense today. Customers don't buy a Moynat bag because it looks nice or because it is of high quality, but they acquire a piece of history. In addition, Mr. Davin pointed out the modernity of Moynat, which CEO and founder was a single woman, Pauline Moynat, a unique case in the 19th century. Let us remind you that more feminist figures such as Jeanne Lanvin, Madeleine Vionnet or Gabrielle Chanel actually started their career in fashion several decades later. And actually, the modern designs of Moynat do reveal a strong sense of risk-taking and innovation.
Pauline bag, Moynat
As much as Moynat and Louis Vuitton share a complex mixed brand identity of innovation and tradition, Goyard and Moreau appear more as the guardians of ancient know-how.
After the brilliant exhibition Louis Vuitton & Marc Jacobs which took place at the Musee des Arts Decoratifs in Paris, I already dream of a larger exhibition on the four brands !"
*Click here to go view the blog directly*
___________________________________________________
The next blog is a nice little insight in to the Goyard exhibition which was held in Florida, March 2016. It is a blog from the Culture Watch section of the exclusive Bal Harbour Shops website situated in Florida, USA. Entitled "Godard's Greatest".
"The House of Goyard is built on two pillars—heritage and passion—both of which provide the foundation for an incredible in-store exhibition opening tomorrow at Bal Harbour Shops, "Luggage of Fame." Made possible by the Goyard Heritage Collection in Paris, the exhibition presents the bespoke Goyard collections once belonging to the Duke and Duchess of Windsor and Coco Chanel.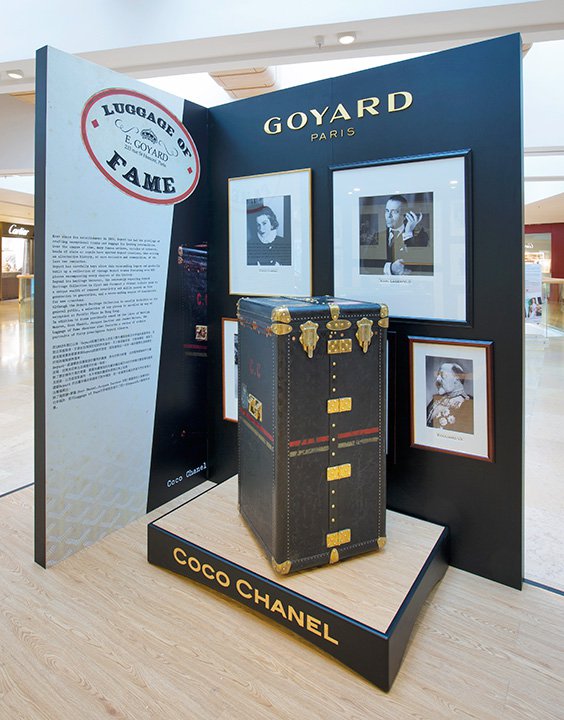 However, this showcase is not just a curated sampling from Maison Goyard's archive. It's a snapshot of the life's work and obsession of one man, Jean-Michel Signoles, President of Goyard, who began collecting the house's storied trunks and accessories—and eventually the house itself! Debuting at the Bal Harbour Shops boutique on March 24 (and on view through April 3), the exhibition exemplifies how closely the house works with its clients in order to create the perfect travel accessory.
Take, for instance the trunk once belonging to Coco Chanel. The all black trunk (very rare for Goyard) is finished with gold clasps, locks and handles and has no drawers—all of which were custom-designed for Chanel.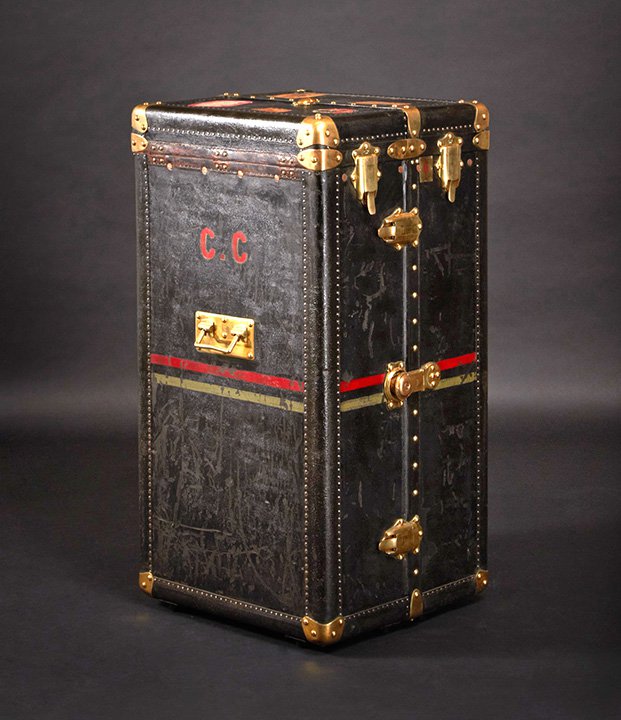 And for the suite of luggage for the Duke and Duchess of Windsor, the pieces share unifying bands of stripes: blue and yellow for the Duchess and red and yellow for the Duke. Each are also marked with their respective titles, ever since their first order was placed in 1939. According to house records, the Duchess was also a fan of Goyard's collars and leashes, which she used to purchase for her pugs.
*Click here to go view the blog directly*
___________________________________________________
And lastly, the team at 'The Australian' did a write up on their experience at the opening of the 'Volez, Voguez, Voyager' exhibition which traces Louis Vuitton's history
THE AUSTRALIAN - APRIL 27, 2016 12:00PM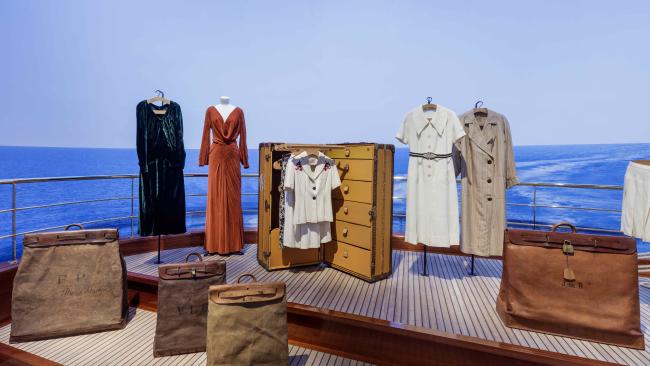 Fashion exhibitions being such big news at present, Buzz was excited, to say the least, to head to Tokyo last week to attend the opening of Volez, Voguez, Voyager — Louis Vuitton, the house's exhibition of luggage and travel. From one of its earliest trunks circa 1860 up to pieces from men's wear designer Kim Jones this year, it covers the changes in travel — from horse and cart, via train travel to cars and planes — and how Vuitton has adapted its custom offerings accordingly. Curated by Olivier Saillard, director of the Palais Galliera fashion museum in Paris, the show includes clothing and accessories from this collection relative to the dates of the luggage on show. Theatrical set designer Robert Carsen created the evocative mise en scene, which included one room designed as a train carriage, with video projections running past the windows, and a ship's bow with steamer bags and trunks (pictured). It was certainly enough to give anyone the travel bug and, should you be headed to Tokyo from now until June, do pop in to have a look — and download the interactive app (LV Tokyo Expo) for some extra insights.
*Click here to view article directly*